To create a rabbit decorated table you can add different kind of items to your table. Think about rabbit napkin rings, placemats, candleholders and plates. There are some rabbit Christmas themed items out there you can get for your table decor. But you can also use items that are not Christmas themed and add other Christmas items to create a Christmas look. Both have there pro's. The pro's for getting rabbit items that are not Christmas related is that you can use the items the whole year through and use them for other occasions. But the pro's for getting rabbit items that are Christmas related is that you create a Christmas look with just one item and you don't have to add something to it.
In this post are some ideas for creating a rabbit Christmas table decor with different color themes. Are you going for a brown woodland theme? Or are you dreaming of a white rabbit Christmas? At the end of the article there are some more suggestions for rabbit Christmas table items.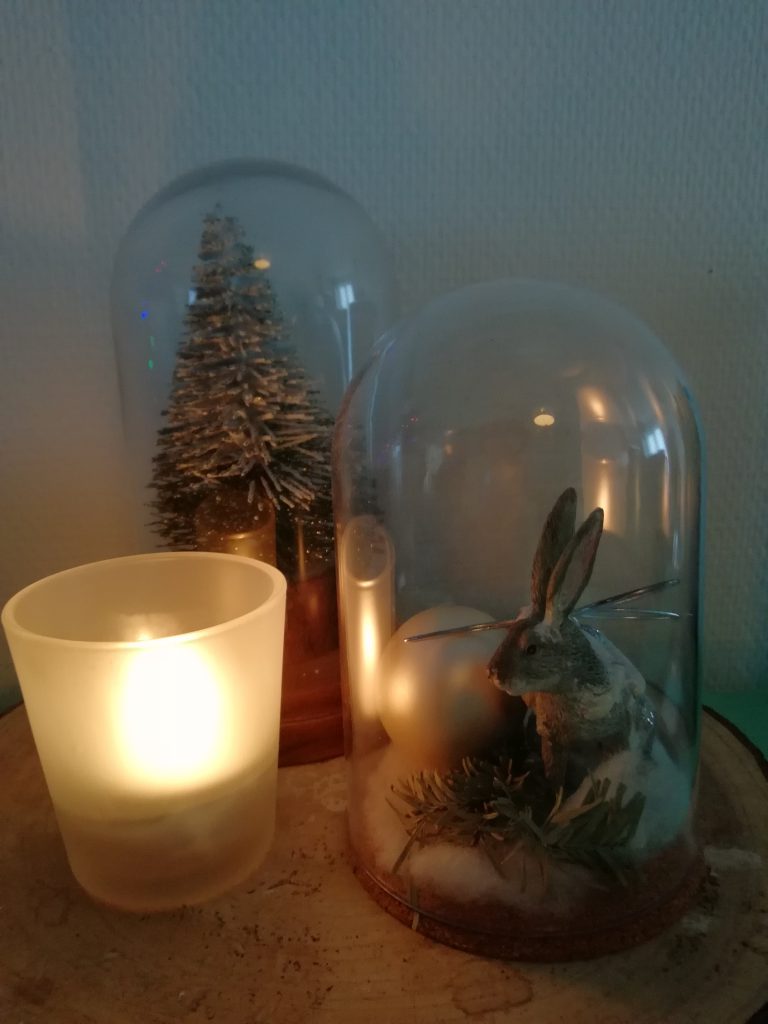 As an Amazon Associate I earn from qualifying purchases.


Ideas for Rabbit Christmas Table Decor
Are you looking for some rabbit Christmas table decor items? Here is some inspiration to create a rabbit Christmas table.
Click on the pictures to find out more about the items. By clicking on the pictures you will be redirected to amazon.com.


1. Brown Woodland Themed
Create a woodland Christmas themed table with some rabbit items. Use brown and pine cone ornamants to make a real Christmas table.


Woodland Rabbit Dinner Plate


Pillar Candle Holder


Brown Christmas Ornaments


Wooden Napkin Holder


Brown Dinner Napkins


Brown and Gold Pine Cone Ornaments


Rabbit Woodland Pepper and Salt Shaker


Appetizer Dessert Plate


2. Snow Bunny White
Create a simple and white rabbit Christmas look with these next items.


Porcelain Rabbit Napkin Holders


Personalised Wine Glass with Rabbit


Chips and Dips Plates


White Ornament Ball


Faux Fur Table Runner


Rabbit Plates


Rabbit Candle Holder


Rabbit Cracker Dish


White Rabbit and Snow Placemat


White Rabbits Pepper and Salt Shaker



3. Blue Theme
Working with a blue theme this Christmas? Here are some suggestions for a blue Christmas table decor.


Ceramic Bowl


Blue Poinsettia Flower


Snow Bunny Blue Tone Mug


Blue Christmas Snowflake Napkins


Porcelain Hare in Winter Plate



4. Subtile Gold Theme
Gold is a pretty and festive color to work with when creating a festive and cosy atmosphere. Here are some gold rabbit and Christmas items to add to your Christmas table.


Bunny Napkin Ring


Napkins with Golden Stars


Rabbit Plate Golden Enamel


Gold Christmas Decorations


Decorative Spoons and Forks


Rabbit Tray


Bunny Party Straws


Rabbit Dish


Sequin Table Runner


Porcelain Tea Mug



Other Rabbit Tableware and Decor
Looking for more rabbit tableware and decor items to use for your rabbit Christmas table? Here are some more suggestions.


– Napkins


Rabbit Christmas Napkin


Rabbits with Scarfs Napkins


Hello Snowman with Rabbit Napkins


Red Dinner Napkin


Rabbit in the Snow Napkins


– Placemats


Rabbit and Snowman Placemat


Bunny with Candy Cane and Snowflakes Placemat


Green Rabbit Christmas Placemat


Black and White Rabbit and Deer Placemat


– Tableware


Porcelain Display Stand


Christmas Salad Plate Rabbit with Tree


Rabbit Holiday Salad Plate


Rabbit Salad Plate


Rabbit Face Dish


Rabbit Dessert Plates


Rabbit in Mug


– Candles, Candlesticks, Candle Holders


Two Black Candlesticks


Rabbit Pillar Candleholder


Crystal Tea Light Holder


Black Rabbit with Stars Tea Light Holder


Rabbit Candlestick with Blue Bow


Four Rabbit Candles


Red Metallic Rabbit Candle


Rabbit Holiday Candle


Black Rabbit Candle


– Napkin Rings


Gold Rabbit Napkin Ring


Bunny Ears Napkin Rings


Rustic Napkin Rings


Aluminum Rabbit Napkin Weight


Drink Coasters


Rabbits with Christmas Tree Coasters


Holiday Rabbit Coaster


Rabbit with Scarf Coaster